Lawrence Jones grills Democratic Portland mayor over 'anti-cop sentiment': 'These are your residents'
"Cross Country" host Lawrence Jones pressed Democratic Portland Mayor Ted Wheeler on his track record for safety, homelessness, drug use and "anti-cop sentiment" in his city.
Jones began with a montage of Portland residents voicing their concerns over increased crime, homelessness and perceived inaction by Wheeler. One resident accused Wheeler of "working hard at taking care of his favorite constituents, people who have tons of money and property in the city, and not so much on the rest of us." 
Another resident pinned the issues facing Portland on less policing.
Wheeler acknowledged the complaints and "significant challenges," but emphasized that those were "some" — not all — of his constituents.
'DYSTOPIAN' PORTLAND HOMELESS COMMUNITY BOASTS MAKESHIFT CABINS WITH CHIMNEYS, SOLAR PANELS
He added: "These are some of the same issues that have been exacerbated in large cities all across America."
Wheeler highlighted Forbes naming Portland as a top travel city in America for 2023. He cited initiatives to address homelessness, recruit more police officers, improve public safety, and clean up litter and graffiti.
Jones challenged Wheeler on his stance toward police funding. He played a clip from 2020 where Wheeler proposed to "re-purpose police dollars" for "racially just" city reforms. Jones claimed Wheeler's approach had not made the city safer for Black and Brown communities.
Wheeler said Jones was taking his words out of context and defended his record on public safety. 
"As the police commissioner, I've made it my business to make sure this city is safe for our citizens," Wheeler said.
PORTLAND MAN ARRESTED AFTER TERRORIZING DOWNTOWN AREA, 'CHASING PEDESTRIANS' WITH STOLEN FORKLIFT: POLICE
Wheeler's office previously reported a 50% increase in homelessness from 2019 to 2022 as well as homeless encampments topping 700 within the city.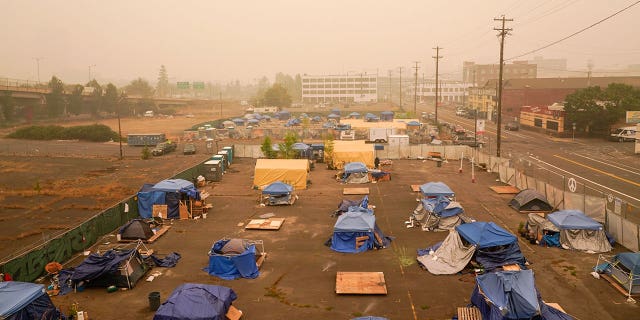 Jones told Wheeler that his perspective was informed by firsthand experiences with Portland residents.
"I've been there for the last four years talking with residents there. They say they're unsafe. They say tents are surrounding their houses. They say that squatters are taking over the city. They say — and I see it with my own eyes — that people are shooting up with drugs, and they say it's because of policies that you support," Jones said. "And the police commander that I talked with yesterday said that you, in fact, did de-fund the police and made it an anti-cop sentiment under the guise of racial justice. So it's not something that I am saying. These are your residents."
CLICK HERE TO GET THE FOX NEWS APP
Wheeler stood by his commitment to address issues such as homelessness, crime and drugs.
Fox News Digital's Kyra Colah contributed to this report.