Parliamentary inquiry as NSW town's last bank closes as raft of regional branches shut up shop
A parliamentary inquiry has been set up to look at the closure of
bank
branches across
New South Wales
regional and rural towns.
For Junee in the state's Riverina, the inquiry couldn't have come at a better time, with the last bank in town announcing it's closing its doors within weeks.
The town of almost 7000 has banded together to try and save the last branch in the area by lobbying the government and signing petitions. 
Maisie Robinson, 89, has been with the Commonwealth Bank branch since 1943.
She brought her bank book revealing a deposit of seven shillings she made as a nine-year-old to the protest.
"Not every one has got a mobile phone or a computer and not everyone can travel to other towns," Robinson said.
Other locals are also unimpressed with the closure of their only branch.
"I don't like it," Rita Webb said. 
Leonie Wilson said she was "a bit old-fashioned" and not used to using a bank card.
Businesses such as the famous Junee Licorice and Chocolate Factory are worried about the closure too.
"We are going to do our banking and our deposits in our neighbouring town of Wagga Wagga, which is about an hour round trip," sales and marketing manager Rhiannon Druce said.
"So it just becomes more pressure on us."
Junee once had four banks. Six years ago it was two, and then ANZ left.
The Commonwealth Bank will close its branch on March 3.
"We regularly review our services across Australia to help inform decisions on where to open, renovate or upgrade branches, or in some instances where to close branches," regional general manager Norm Swift said.
"After a recent review, we made the difficult decision to permanently close our Junee branch, which has had a 37 per cent drop in transactions over the five years before the coronavirus pandemic.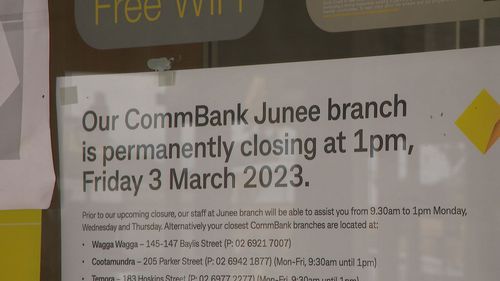 "We've redeployed the vast majority of staff from branches that have closed, and are working closely with our people from Junee branch to support securing appropriate comparable roles suitable to their needs.
"We recognise some customers prefer to do their banking face-to-face and it's one of the reasons we're proud to maintain the largest branch network in the country."
Swift said the bank understood some customers preferred to do their banking in person.
"We invest around $50 million in our branch network each year to upgrade or refurbish existing branches and open new branches where we see customer demand," he said.
"Customers who prefer over-the-counter service still have access to this option, with other branches in the region at Wagga Wagga, Cootamundra and Temora."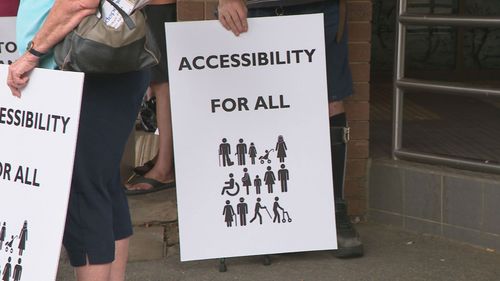 The regional general manager also pointed to banking options available at post offices around the region.
But local solicitor Michael Commins, who is in a wheelchair, said the local post office was not accessible for all to do their banking because of its step.
"Someone from Sydney has said we're going to close Junee without sending anyone out here, any thought about disability, it's not just me., you got prams, you got old people," Commins said.
More than 300 bank branches have closed nationally in the past two years and it has prompted the Senate to announce an inquiry into regional closures.
"These communities have given those banks so much over so many years," Riverina MP Michael McCormack said. 
"They deserve better now. Junee is not going to cop this."
Sign up here
to receive our daily newsletters and breaking news alerts, sent straight to your inbox.