Melbourne medical centre removes skin cancers without surgery
A painless procedure to remove skin
cancers
using a 'radioactive paste' instead of surgery has become available in
Melbourne
.
The first patient to have the treatment has had remarkable results.
With skin cancer deep in his ear, Frank Pattison was struggling to use his hearing aid and faced aggressive surgery to have the tumour extracted.
"He was basically looking at surgical options where he would have lost a large part of his ear, Dr Myn Lee from Avion Medical Skin Centres explained.
That was when his daughter, Marita Pattison, took him to see Dr Lee at Avion Medical Skin Centres in North Melbourne.
She removed the 94-year-old's cancerous lesion with a quick, non-invasive procedure that has left his ear intact.
"There was no pain, no pain whatever," Frank told 9News.
Marita said it was like her father had "a brand new ear".
"It is absolutely amazing," she said.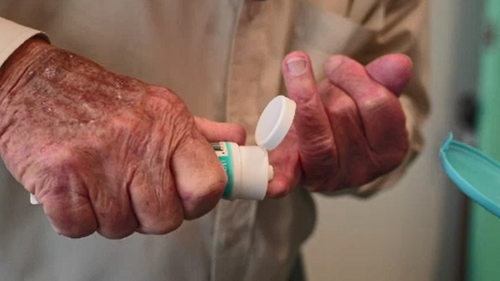 Frank can now comfortably wear his hearing aid.
For the Rhenium treatment, which is only for non-melanoma skin cancers, the patient has a plastic foil placed over their lesion, then a radioactive resin is painted onto the foil which is directly over the skin cancer.
Radiation particles penetrate through the foil and skin to a depth of three millimetres, targeting the tumour but preserving healthy tissue.
"Even after you don't get an actual surgical wound," Lee explained.
The treatment is a private procedure, meaning patients pay the full cost, which is determined on a case-by-case basis.
Sign up here
to receive our daily newsletters and breaking news alerts, sent straight to your inbox.