Hugh Hudson, director of Chariots of Fire, dies aged 86 | Film
Film director Hugh Hudson, who directed best picture Oscar winner Chariots of Fire, has died aged 86 following a short illness.
A statement released on behalf of his family said: "Hugh Hudson, 86, beloved husband and father, died at Charing Cross hospital on 10 February after a short illness."
Hudson was married to the actor Maryam D'Abo, who starred in the James Bond film The Living Daylights. The family statement said that he was survived by her, his son, Thomas, and his first wife, painter Susan Michie.
Nigel Havers, who starred in 1981's Chariots of Fire, said: "I am beyond devastated that my great friend Hugh Hudson, who I have known for more than 45 years, has died. Chariots of Fire was one of the greatest experiences of my professional life, and, like so many others, I owe much of what followed to him. I shall miss him greatly."
Hudson began his career making commercials before landing a job working alongside Alan Parker as a second unit director on Midnight Express. Three years later, his film Chariots of Fire, which told the story of two British athletes at the 1924 Olympics, became an international hit.
"I think David Puttnam [the producer] chose me because he sensed I'd relate to the themes of class and racial prejudice," Hudson said to the Guardian in 2012. "I'd been sent to Eton because my family had gone there for generations, but I hated all the prejudice. The scriptwriter, Colin Welland, a working-class boy from Merseyside, understood it perfectly, too. So it was a personal story for us."
It was nominated for seven Oscars and won four, including best picture.
Hudson's next film was Greystoke: The Legend of Tarzan, Lord of the Apes starring Christopher Lambert, Ian Holm and Andie MacDowell. It was a box office hit and received three Oscar nominations. He followed it with Revolution in 1985, a historical drama starring Al Pacino.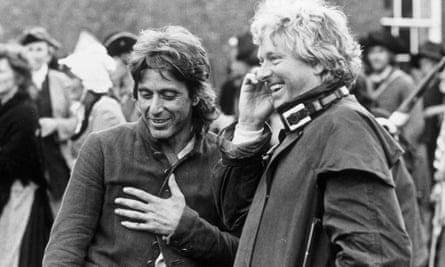 His other films included My Life So Far (1999) and I Dreamed of Africa (2000). He also worked on the stage adaptation of Chariots of Fire and directed an opera version of The Crucible. His last credit was for co-writing the screenplay for the 2022 adventure The Tiger's Nest.