Arkansas Gov. Sanders dings Biden: He 'set the bar low' for Republican SOTU response
Arkansas Gov. Sarah Huckabee Sanders riffed on President Biden's "terrible" State of the Union address, to which she had given the official Republican response.
Sanders quipped to Fox News that the Delaware Democrat "set the bar low" for anyone following him, which she joked made her job easier. Besides Sanders, freshman Rep. Juan Ciscomani of Arizona gave the Republicans' Spanish language response as well.
On "Hannity," host Sean Hannity cited Sanders' official response, wherein she said, the dividing line in America is no longer between right or left. The choice is between normal or crazy."
Sanders nodded, adding many Americans can see that the Democratic Party of the past is largely unrecognizable within today's left – remarking "there's no other way to describe it other than crazy."
CA'S NEWSOM SLAMMED FOR SNIPING AT AR GOV SARAH SANDERS OVER PUBLIC SAFETY
"The things that they are pushing, whether it's outlawing gas stoves or defining genders by-the-second, everything that they come up with is just moving so far out of the mainstream that there's no other way to describe it," she went on.
"I was thankful that I got to follow President Biden because he does help set the bar a little bit low. And that made my job a bit easier. The other part, he just has a terrible story to tell."
Sanders called Biden an "absolute failure" of a president, adding folks can tangible feel his failure as national leader when they fill up their gas tank, buy groceries and the like.
She thanked House Speaker Kevin McCarthy, R-Calif., and Senate Minority Leader Mitch McConnell, R-Ky., for allowing her to be the one to offer the party's response to Biden.
SARAH SANDERS DELIVERS GOP REBUTTAL TO SOTU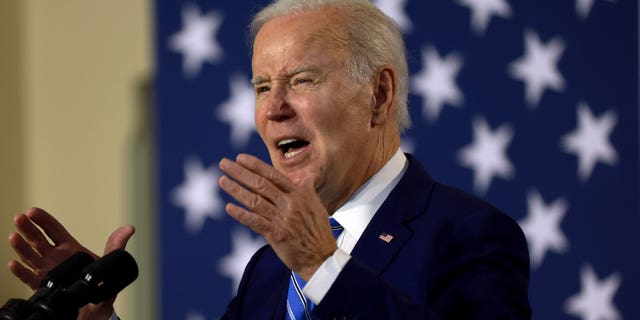 "It was an absolute honor; an incredible opportunity…  to tell our side of the story and hopefully share the optimistic view and the belief that we have with the Republican Party."
In her speech, Sanders said it is "time for a change" and called on Americans to "reaffirm our commitment to a timeless American idea: that government exists not to rule the people, but to serve the people."
"Democrats want to rule us with more government control, but that is not who we are," she added.
On "Hannity," Sanders also responded to a swipe from California Gov. Gavin Newsom, who keyed into her focus on public safety in her State of the Union response, claiming she intentionally "skip[ped] over Arkansas ha[ving] one of the highest murder rates in the nation."
Hannity asked about the remark, adding that Newsom has been in Californian office – whether it be San Francisco mayor, lieutenant governor or governor – for nearly 7,000 days, compared to Sanders' 31.