Qantas plane met by fire crews as storms delay flights
A Qantas plane has been met by fire services at Sydney Airport after pilots flagged a potential technical issue.
Flight QF452 was one of many also
delayed by storms
with some services cancelled altogether.
A Qantas spokesman told 9News no emergency was declared but crew wanted to get a possible technical problem with the brakes on the Boeing 737 checked.
"There was a technical issue and they wanted to get that checked," he told 9News.
"It didn't declare a PAN or anything like that."
The plane landed 90 minutes late after being forced to circle due to the weather as well as the worry over the brakes.
Passengers got off at the gate as usual, Qantas confirmed, with no issues found.
Sydney Airport said due to lightning, passengers might have to wait to disembark, as well as for for their bags.
"When there is lightning in the vicinity of the airport, for safety reasons, airline ground handlers cannot operate outside in aircraft parking bays and aprons," the airport said.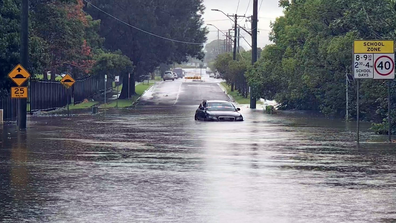 Severe thunderstorm barrels through NSW south coast
Virgin Australia earlier warned of weather-related delays and cancellations between 12.30pm and 4pm.