'No more skewed history': the Black parents turning to homeschooling | US education
Since she began homeschooling her children in Louisiana in the early 90s, Joyce Burges has watched the practice explode in popularity among families like hers.
"Parents nowadays – this woke generation of 25- to 40-year-old parents – their eyes are open. They're just not having that whitewashed, skewed history any more," she says.
Back when she started homeschooling, it was against the advice of friends and family who questioned how she could teach effectively without a college degree – only a handful of states require homeschool teachers have a GED or high school diploma.
She'd decided to teach her son at home after his principal said he was struggling academically and would need to find a new school. "Here I am, Black woman, and our children are not welcomed into the system. So homeschooling was the only option at that time that we had."
Though her son wasn't expelled for behavioral issues, Black students in general have long been overrepresented in exclusionary practices. It's especially true for boys. Data from the US Department of Education's Office of Civil Rights show that Black boys in 2017-2018 were expelled and suspended at proportions that were three times their proportion of enrollment.
Under a structured regimen of chores and study time, Burges's son blossomed, and she went on to educate all of her five children at home and co-found, in 2000, along with her husband, the National Black Home Educators organization. She says the organization now serves "hundreds of families a year", providing them with study plans as well as community.
The homeschooling landscape today is vastly different from what it was when Burges was starting out. According to data from the US Census Bureau's Household Pulse Survey, there was a dramatic rise after the start of the pandemic from an estimated 5.4% of school-aged children homeschooling in spring 2020 to 11.1% the following school year. The number of Black families increased more than five times over – from 3.3% to 16.1% – a bigger jump than any other racial group.
There's no single motivating factor driving Black families to homeschool. But those who spoke to the Guardian described being fed up with a public school system that disproportionately punishes Black children, relies heavily on standardized testing and lacks diverse representation in the literature and history books their children are given. As the number of Black families turning to homeschooling grows, they are simultaneously creating communities that allow Black children to learn in a culturally affirming environment, free from the punitive approach of traditional schools.
Chris Stewart, a parent, education activist and former member of the Minneapolis school board, has for years been a vocal advocate for the importance of creating such educational environments for students – both as a refuge from systemic racism and a means of empowerment.
He recognizes that homeschooled students represent only a small portion of the students in the US, but he sees promise in the frameworks Black families are creating through networks and cooperatives.
"While we don't have robust research to support the idea this is something everybody should be doing, I think we have enough research to say that for many African Americans and people of color, when they put their kids into the safe harbor of learning environments that are created specifically for them, it's a positive direction to go," he says.
Burges says she's met a lot of people who perceive homeschooling as primarily an option for white families, a notion she's never agreed with. "There were definitely a lot of myths – as though those of us who were homeschooling were 'Benedict Arnolds' after Martin Luther King Jr fought so hard for public education. But as parents we didn't wrap our heads around any of that. We just wanted the best possible education for our son," she says.
More recently, Burges has encountered more families who are interested in homeschooling not because they're fleeing public schools, but because they can give their children the educational experience they deserve at home. With more Black families opting in than ever before, children can also find the community they need to thrive.
"Nowadays homeschooling is a much more sophisticated option," Burges says. "We're no longer the mom sitting at the kitchen table homeschooling children. You're seeing moms and dads teaching on cruise ships, grandparents homeschooling kids, families coming together at local parks."
---
Homeschooling predates the nation's public education system, says James Dwyer, a professor at William & Mary School of Law and author of Homeschooling: The History and Philosophy of a Controversial Practice. But the modern version began in the 1960s with leftist parents who had grown suspicious of the state and any curriculum it sponsored.
The ranks of homeschoolers ballooned during the 1980s, Dwyer says, partly in response to a series of supreme court decisions that banned prayer in schools as well as an increase in youth violence. Homeschooling had a few more growth spurts, but remained largely stable from about 2012 until the pandemic hit. Today, an estimated 3 to 5 million children in the US are homeschooled; the exact number is difficult to pin down due to differences in reporting methods.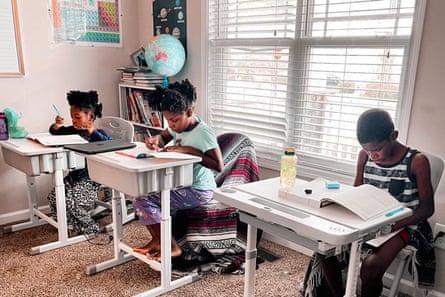 Dwyer isn't opposed to homeschooling and says he's considered the option for his own children. But he says it's hard to argue homeschooling is a good fit for all students because laws and requirements vary by state – about a dozen states don't require parents to notify school districts that their children are homeschooled, making it more difficult to track students' whereabouts and ensure their safety; some states require that homeschool teachers cover basic subjects like math, science and language arts, while others do not, which may create a challenge for monitoring academic progress.
There's also the chance that homeschooling doesn't work and parents re-enroll their children in public schools, at which point they may have been set back academically. "If parents decide to call it quits and their child loses a year or two of academic advancement, is that a tragedy? Maybe not. But I think we can call it sub-optimal," Dwyer says.
That wasn't the case for Khadijah Ali-Coleman. She homeschooled her daughter, who enrolled in college classes while she was still in high school, a status known as dual enrollment. Her daughter went on to earn her associate's degree at 17 and is now in her second year at the University of San Francisco on a full scholarship.
For Ali-Coleman, who has spent a decade as a community college educator, teaching dual-enrolled students – who overwhelmingly exhibited skills they needed to be successful in college, such as the confidence to ask questions and the ability to self-pace – confirmed what was missing from traditional education and became the basis of her dissertation. "I wanted my dissertation to focus on African American dual homeschool students, because I think that their practices can be incorporated in pre-college programs for our students whether or not they're homeschooled," she says.
Along with the University of Georgia researcher Cheryl Fields-Smith, Ali-Coleman co-founded a group called Black Family Homeschool Educators and Scholars, which she describes as a repository of research and a community where parents can share information and best practices free from vendors trying to market new products.
In addition to the study skills Ali-Coleman noticed among the dual enrolled students she interviewed, her research revealed something she wasn't expecting: the students seemed to have an awareness not only of their own cultural identity, but a sense of responsibility to be allies to other Black students.
"They were talking about things they just picked up from their parents and hearing their parents engage with other Black people," she says. "They wanted to make sure that a person felt comfortable in an environment where they were a minority."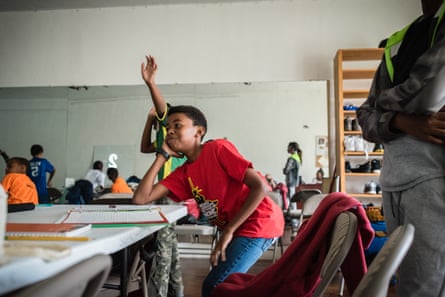 Bernita Bradley sees this in the students she serves as a facilitator and partnership manager for Engaged Detroit, a co-op and advocacy network for homeschooling families."Children thrive where they know that they're loved. And that becomes, 'I will learn to love learning what I'm learning,'" she says.
Bradley notes the anxiety students have about school when she first starts working with them; she sees it in the way they disengage, hang their head or shrug their shoulders. And she watches them come alive and open up to learning when they trust that the adults around them care about them.
She's watched the same change happen in her own daughter, Victoria, who attended traditional public schools and charter schools. She enjoyed learning but struggled to deal with the disruptions familiar to public schools – one year, Victoria had three different science teachers; she endured bullying and impatient teachers. Victoria had always been one to ask questions in class, but she believes some teachers saw that as a challenge to their authority.
"A lot of schools in brown and Black communities have become this space where they want children to fit in this square peg. And, and if they don't fit in that square peg, then there's something wrong with you as a child – not our broken system that's historically failed brown and Black families," she says. "Homeschooling flipped my thinking about education upside down."
A turning point came when Victoria struggled with a chemistry class and began to check out of her studies. Bradley's instinct was to pressure her daughter to buckle down, but on the advice of a friend and mentor, she instead asked her daughter what class she wanted to take. Victoria chose forensic science, which Bradley said was more advanced than chemistry. But she flourished; it was no longer a struggle to focus. Victoria came away with a plan to become a criminal psychologist, Bradley says.
"I realized I had been doing the same thing that public schools have done to kids. When kids don't do things the way that they want them to, they shut them down and make it seem like there's something wrong with them, instead of letting them be guided by their own passion."